Home
Library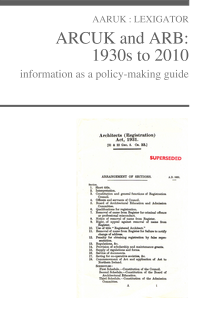 ARCUK and ARB : 1930s to 2010
Information as a policy making guide - about the originating and amending leislation for the UK Register of Architects. (N.B. This booklet is the same as that shown on the front page, but with a different cover.)
Why? (EU supplement)
The EU and the ARB (UK Architects Registration Board) 1997 to 2010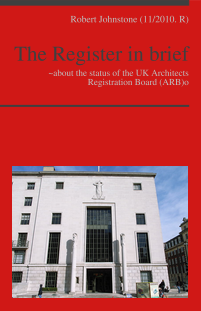 The Register in brief
About the status of the UK Architects Registration Board (ARB). Robert Johnstone, November 2010.
Back to [front page]
Osbert Lancaster, 1948 "Pillar to Post: English Architecture without Tears."
"The most polite and unsplenetic of cartoonists, he was never a crusader, remaining always a witty, civilized critic with a profound understanding of the vagaries of human nature." In the cause of architectural education and the public understanding of practice an AARUK contributor commends Osbert Lancaster's works, and RIBA pages on "How We Built Britain".
Why? (4 ks supplement)
About the texture of England's architecture. Of four 20c knights - two Gold Medallists (N Pevsner, J Summerson) and two others (from AR: J Betjeman, O Lancaster)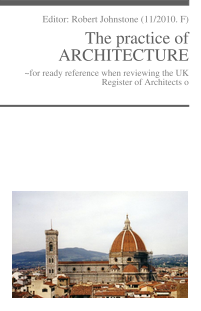 The Practice of Architecture
For ready reference when reviewing the UK Register of Architects, providing a narrative from the 1830s.